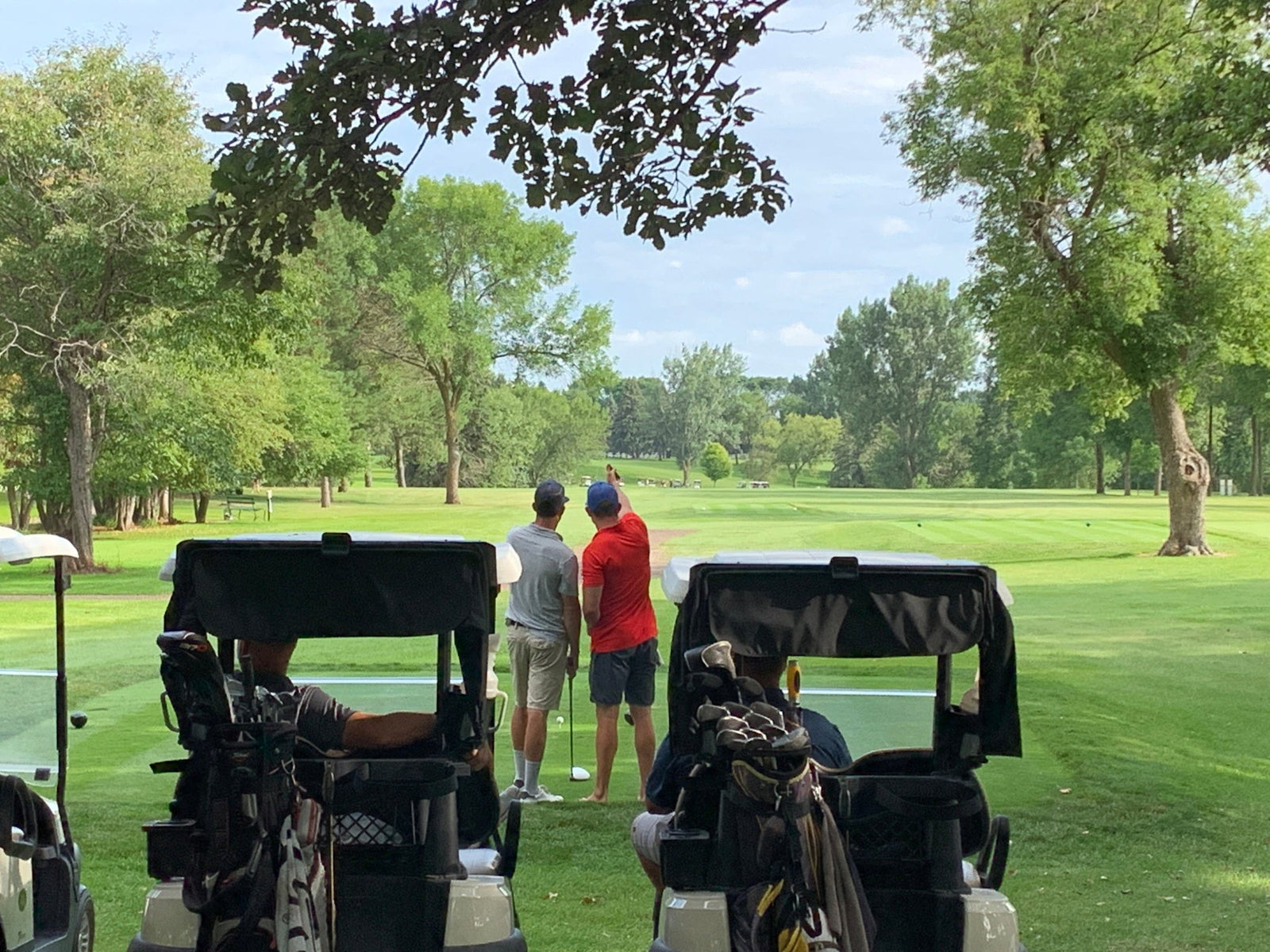 Everyone marvels over the accomplishments of professional golfers, but rarely are Caddies given their fair share of the credit. In my humble opinion, a golf caddie can drastically change a round. Hell, a good caddie can drastically change a life. The player caddie relationship is a delicate balance. Now you see, these caddies sometimes get the short end of the stick.
But others make mistakes that live on through history. A club selection can be the difference between wining and losing a major. Jean Van De Velde hitting driver on the 18th hole of the British Open that led to him losing a 3 shot lead. Or how bout recently when Mito Perirra hit a driver on 18 at the PGA Championship that led to a double bogey and a third place finish. How much of the responsibility falls on the caddy? How much on the player? Sometimes there isn't room for debate as seen below - potentially the worst caddy mistake in the history of golf.  
But throughout history there are player/caddie relationships that transcend anything you know about relationships.
If you ever find yourself a good caddie, my advice is "hold onto them".  The grass isn't always greener on the other-side. If you're looking for a point of reference, here is a list of our grassiest caddies of all time. 
 GRASSIEST CADDIES OF ALL
Steve Williams
The caddie who carried the bag for the greatest golfer, potentially greatest athlete of all time, undoubtedly belongs at the top of the list. The Aussie started caddying when he was 10 years old. Early on he carried for the likes of Greg Norman and Raymond Floyd before getting hitched with Tiger Woods. Tiger Woods and Steve Williams went on to win 13 major championships before an abrupt ending to their relationship. As it's told, Tiger Woods parted ways after Williams caddied for fellow countryman Adam Scott for an event that Tiger Woods did not approve of. Williams was not only apart of the greatest Tiger moments, but was also there for the down fall. Post breakup Williams hooked up with Adam Scott full time and helped Scott capture his solo major at the 2013 Masters.
Herman Mitchell 
Maybe the most romantic player/caddy relationship in the history of golf. Herman Mitchel caddied for Lee Trevino for 19 years and for all 6 major championships. The two were a perfect marriage as Mitchell's stoic persona offset Trevino's firey personality.  Mitchell famously said of Trevino, "I think me and Lee are as close as any caddie and player have ben in the history of golf. He's better to me than I am to myself. I love him like a brother." Mitchell no longer caddied for Trevino when he fell sick in the mid 90's. Like a brother, Trevino continued to support Mitchell financially until he died in 2004. 
Willie "Pappy" Stokes
Willie Stokes most likely had the most romantic relationship with a course. Born in 1920 on a farm called Fruitlands Nurseries in Augusta Georgia. The same farm that was bought in 1930 by Bobby Jones and Clifford Roberts that would become the famed Augusta National. Stokes plowed the land when it was a farm and then cleared trees to help the construction of the golf course. When the course opened Stokes became a caddy where he spent the rest of his days. He became the youngest caddy to win the Masters at age 17 and caddied 5 Masters wins with four different players. Fellow August National caddy Carl Jackson famously called Willie Stokes "the very best caddy here. He was the king."
Angelo Argea
Angelo Argea had it all. He carried the bag for the great Jack Nicklaus for over 20 years and for 44 of his 73 PGA Tour wins. Throughout his time with Nicklaus, Argea became the most well known caddy not only because of his player, but because of his iconic afro. It's long been told that Angelo never read a green, gave a yardage, or decided a club. Instead, Angelo's job consisted of reminding Jack of two things 1) that he was the greatest golfer in the world and 2) there were plenty of holes left. 
 Mike "Fluff" Cowan
Right up there with Argea, "Fluff" was as well known for the players he caddied for as for his rather plump physique and walrus looking mustache. He never planned to be a caddy. According to him, he had nothing better to do and would often sleep in his car between tournaments listening to Grateful Dead albums. His wanderlust turned into a 40 year career caddying on tour where he carried for a lineup of Peter Jacobsen, Fred Couples, Tiger Woods, and Jim Furyk. Fluff jettisoned Jacobsen to caddy for Tiger Woods at his PGA Tour debut - the 1996 Greater Milwaukee Open. The two won the Masters in 1997 and then two years later after the 1999 Nissan Open their relationship came to an abrupt ending. Fluff was interviewed by Golf Magazine where he disclosed his finical agreement with Tiger Woods. Tiger was irked by the interview so much so that the red hot duo was no longer. Following the breakup, Fluff hitched up with Jim Furyk who he helped guide to a US Open Championship and a US Senior Open Championship. You'd be hard pressed to find a more Grassy caddy on tour. 
Tip Anderson
Tip Anderson was a caddie that could really tip the scales for a player. He was born in St Andrews where he first became a caddie. Back then caddy player relationships weren't as iron clad as they are today. For instance, Tip Anderson only caddied for players when they came to Europe. He carried for Arnold Palmer in every British Open appearance during his prime except for the one year Palmer couldn't make the trip across the pond, 1964.  Palmer recommended Anderson caddie for his buddy Tony Lema. Lema had never played in the British Open and had only played the course twice. Lema went on to win the 1964 British Open giving majority of the credit to Tip Anderson. 
Willie Peterson
 The Masters required players to use only Augusta National caddies until 1999. As you can imagine, many legendary caddies emerged from the Augusta National Caddy Shack. Willie Peterson was one of them. He caddied for Jack Nicklaus at the Masters for 24 years leading Jack to 5 of his 6 Masters titles. Peterson's body was buried on the Augusta National grounds following his passing in 1999. 
Jim "Bones" Mackay 
One of the most storied player/caddy relationships was between Jim "Bones" Mackay and Phil Mickelson. He caddied for Phil for 25 years most notably getting Phil over the hump in his 2004 Masters triumph. The pair won 41 PGA Tour events together including 5 major championships. The two parted ways after 21 years together citing that it was time for a change. In my opinion, Bones jumped shipped before Mickelson went on to tarnish his legacy. After a brief stop as a broadcaster, Bones was recruited by Justin Thomas to take over his full-time caddy duties. Fresh off a PGA Championship, Jim "Bones" Mackay is in an elite class. 
---