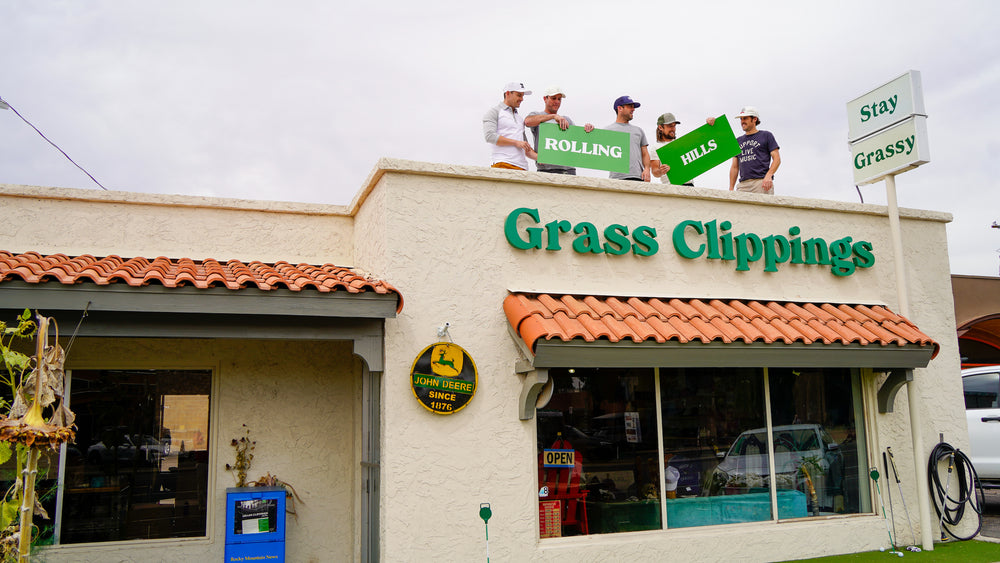 Grass clippings began in 2018 for a couple of reasons.
First, we loved the name.
Second, we felt it was needed. Between the four of us golfers, not one brand out there truly spoke to us. We needed a brand that meant something, that stood for something, that you were proud to wear. 
Third, we got to know an old golf greenskeeper in town and discovered he knew more about the golf course than anybody else at the golf course. The Keepers are the critical component to delivering the golf experiences we all enjoy. These greenskeepers are scientists, artists, and do it by their own means.
Our experiences growing up with the game and our relationships with greenskeepers inspired us to start Grass Clippings. We set out to design unique, sustainable clothes that could represent the greenskeepers, Stay Grassy, and an Earthy approach to business & life. A clothing brand that gives recognition to the dedication, hard work, and selflessness of the great greenskeepers out there. A brand that tells their stories. The romance of early mornings, maintenance yards, coffee, and getting your hands dirty. Help us thank your local greenskeeper. 
Stay grassy is our mantra. It seems to sum everything up.
Grass clippings at rolling hills
THE GOLF COURSE
In 2020 the Grass Clippings team decided it was time to build and take control of what we felt golf was missing. An experience that breaks down the traditional barriers of golf, and introduces what everyone is honestly looking for; Action, entertainment and energy. An 18 hole fully lit (night golf) golf and entertainment venue with dialed in food and beverage, practice facility and live music. Period.
THE PEOPLES PLACE
The Shop
We opened the shop in Phoenix, Arizona in 2021. A physical location to showcase the Grass Clippings brand and the Stay Grassy mantra. Everything we have & everything we do goes down within the walls of this 1,200 sq/ft sanctuary. It's the heart and the soul of Grass Clippings, and anyone's welcome.
3942 E. Campbell Avenue - Phoenix, AZ 85018
for the good timers
The Grass Clippings Open
In 2019 we set out to create the greatest amateur golf tournament in the world. A golf tournament that could stand the test time for generations after us to enjoy. It's simply based on a constitution that promotes good golf in a fun way. A grinder, 2 day, 2 person scramble at a par 3 course. No strokes, no exclusivities, this is for everybody.
SILENT HEROES OF GOLF
The Keepers
The foundation of Grass Clippings, our North star. Their stories must be told. In house writer Billy Dobson is on a mission to track down the grassiest keepers out there and give people a look under the hood, legit behind the scenes access to the amazing work they do and the stories they tell.
In the wild